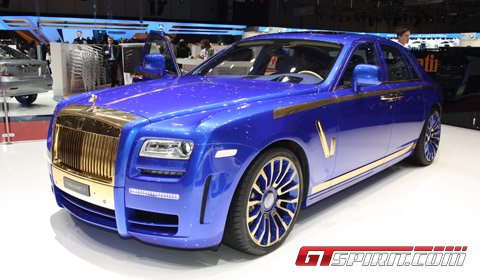 You could call it overkill or pimp, but one thing is for sure. The Mansory Ghost is one of the most special vehicles at this year's Geneva Motor Show. The colour setup in gold and blue is striking and will amaze everybody. Upon request you can get any color you may like. Not only the exterior, but also the interior is one of a kind and resembles the outer design.
The looks are one thing, the performance is a second subject. Mansory improved the 'figures' of the vehicle by implementing new hardware such as enlarged bi-turbo chargers, a stainless steel exhaust system, sports manifold and sports catalysers. The increase renders 720hp (530kW) at 5,850rpm.
In case you want to know more about this unique piece of tuning there is the official introduction.