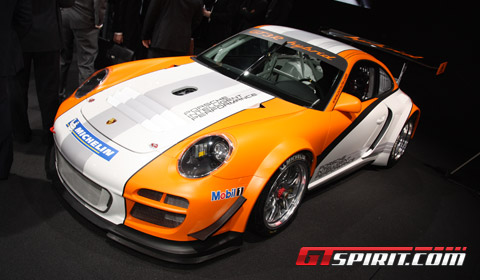 Following its official debut a few weeks ago the Porsche 911 GT3 R Hybrid is showcased at the stand of Porsche, here at the Geneva Auto Salon 2010. The hybrid racer is Porsche's latest step into evolving the racing business.
The hybrid technology featured in the car has been developed especially for racing. In this case, electrical front axle drive with two electric motors developing 60kW each supplements the 480bhp four-litre flat-six at the rear of the 911 GT3 R Hybrid. Porsche uses an electrical flywheel power generator delivering energy to the electric motors.
The focus is not on the 911 GT3 R Hybrid winning the race, but a test case for any future hybrid technology in road-going sports cars.