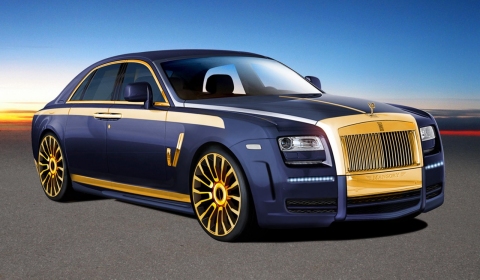 Mansory is back in Geneva 2010 with a new project for the Rolls-Royce Ghost. Kourosh Mansory and his team have come up with a package that combines – and we quote – the most precious materials with elaborate performance, individual appearance and stylish interior refinements.
The most striking part of the new vehicle is the colour setup in gold and blue. The golden varnish is added to the cross-beam in the new front skirt as well as the vertical gill between the headlights and the front wheel houses. On the front there is a modified radiator grill with the same varnish. But there is more to it. There is a new stainless steel sheeting, unobtrusive rear spoiler and rear skirt with the indicated diffuser and the two-pass end pipes of the double sport exhaust system.
Enlarged bi-turbo chargers, the map optimisation of the control electronics as well as the sports manifold and the sports catalysers increase the performance of the Rolls Royce. Instead of serial 570hp (420kW), the Ghost now renders 720hp (530kW) at 5,850rpm. The maximum torque has been raised from 780 to 1,020Nm, accelerating the 2,360kg vehicle from 0 to 100km/h in only 4.4 seconds and is thereby half a second faster than the serial version. Mansory also removed the top speed limitation of 250km/h. The acceleration now stops at 310km/h.
Underneath the Ghost there are monoblock rims measuring 22 inch. Their surface is refined with the same golden varnish as the exterior. At the front axle, 9 inch wide wheels carry the high-performance tyres Dunlop SP SportMaxx in the dimension 265/35, whereas the rear 10.5 inch wide wheels are fitted with tyres in the dimension 295/30.
On the inside, large parts of the interior are covered with delicate leather with diamond-quilted ornaments and are completed by an ultra-suede lining from the roof line to the dashboard. A wide carbon and a sports steering wheel in combination with light bamboo wood inlays accompany the illuminated door sills and implemented ambience light effects. The seats, door casings and dashboard are equipped with LEDs creating a soft light throughout the passenger cabin.
We must say it is striking… a bit too much perhaps? Anybody here?