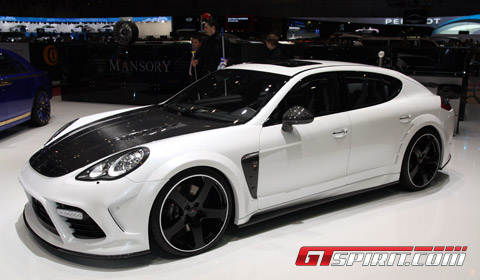 Another car on this Mansory stand at the Geneva Motor Show is their take on the Panamera. This one looks a little less overkill than the Ghost we showed you earlier, in fact, we quite like it!
The Mansory car adds a new front skirt with daytime running lights as well as a carbon fiber bonnet and a wider wheel arch setup. The rest of the body includes new side skirts, a redesigned rear with a carbon diffuser and rear spoiler.
Enhancements have also been added to the 4.8 liter turbo engine in the form of an amended engine management system, larger turbo chargers and a stainless steel sports exhaust system. Power therefore rises to 690bhp and 850Nm of toque at 4800rpm. As you would expect, Porsche have kept the four-wheel-drive system found in the standard Panamera. 0 to 100km/h (62mph) is reached in only four seconds and a top speed of 328km/h (204mph) is now possible.
One-piece Mansory wheels or light 22 inch forged wheels are available in the size 9.5×21 inch or 9×22 at the front and 11.5×21 or 10×22 at the rear. The rubber comes from either Michelin's Pilot Sport tyre range or Dunlop SP SportMaxx range.
Inside, Mansory will once more cater for your needs with leather, wood and metal being just a few popular trim features. The pedals are made of brushed aluminum and there's a freshly designed steering wheel.