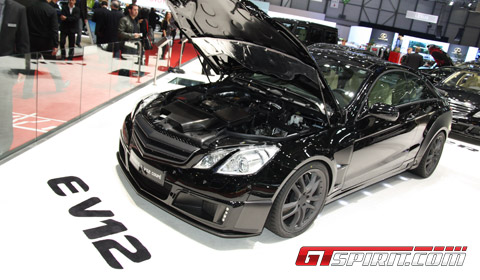 Brabus presents something new at almost every main motorshow. Usually it is based on a Mercedes and pushes the car even further towards insanity that either Mercedes or in-house tuning arm AMG could ever imagine. For Geneva, they have given us the E V12 and E V12 Coupé based on the replacement E-Class.
As you probably guessed from the name, these E-Class' benefits from the addition of the Mercedes twelve-cylinder twin-turbo engine from the '600' range of vehicles. Brabus have modified the design extensively to provide us with a larger displacement unit, now 6.3 liters, pushing power to a staggering 788bhp and 1,420Nm (1,047lb-ft).
To cope with such a drastic change, Brabus have had to change a few fundamentals of the car. A special crankshaft, larger cylinder bore and correspondingly larger pistons have all been installed out of necessity and a sport camshaft has been fitted. The new turbos are specific for the E V12, they feature two custom high-performance headers with integrated turbochargers and four water-to-air intercoolers. To finish the car off there is a new stainless steel high performance exhaust system with free-flow metal catalysts.
Peak power is available at 5,500rpm whilst peak torque can be utilized at just 2,100rpm. Obviously, the ridiculous figure torque quoted above has had to be limited to ensure reliability so production vehicles will only see 1,100Nm (811lb-ft).
To cope with the power Brabus have installed a reinforced five-speed automatic transmission and an own-brand high-performance limited-slip differential as well as adding "a state-of-the-art driving stability program" with an override button.
0–100km/h (62mph) is dealt with in just 3.7 seconds, 200km/h (124mph) in 9.9 seconds and 300km/h (186mph) after a just 23.9 seconds. The E V12 is capable of reaching 370km/h (230mph) unlimited, however, Brabus have taken the precaution of limiting the car to just 350km/h (217mph). As a matter of personal preference, owners can opt to change their gear ratios to either 2.65 : 1 (V/max 315km/h / 196mph) or 2.24 : 1 (V/max more than 370km/h / 230mph)
Brabus coil-over suspension ensures that the car sits 35 millimeters (1.4 inches) lower to the ground with fully customizable settings for bound and rebound being included as standard. Sport sway bars and shock absorbers are also fitted to the suspension.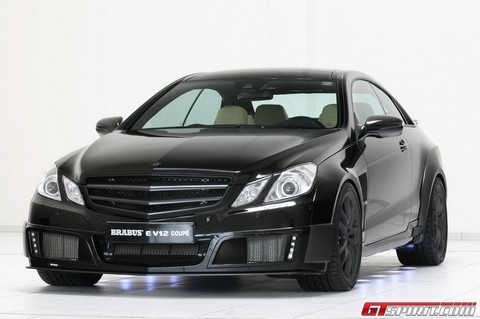 Aerodynamics were sorted with a little help from a wind tunnel with optimization being focused on handling as well as cooling efficiency. The redesigned front features daytime running lights and outlets in the side to divert air away from the heat exchangers. Carbon fiber rear fenders add 60 millimeters (2.4 in.) to the cars width. New rocker panels, diffuser, rear spoilers and bonnet with integrated RAM airbox finish the look, all finished in lightweight carbon fiber.
Wheels come in the form of 19 inch units with a width of 9.5 inches at the front and 10 inches at the rear. Choices of design come from the Brabus Monoblock range including VI, E, Q and S designs. Tyres are rated for the cars performance and can be specified from either Pirelli or Yokohama.
Braking takes the form of Brabus 12-piston aluminum fixed calipers and vented and grooved steel discs measuring 380x37mm (15.0 x 1.5 inches), at the rear, smaller six-piston discs can be found measuring 360x28mm (14.2 x 1.1 inches).
Inside, an ergonomically shaped sport steering wheel and sports seats are the main changes. Carbon fiber trim on dashboard, center console and doors are also worth talking about, however we suspect
that Brabus will cater for most needs.
All these modifications come at a price though. At 478,000 Euros MSRP (£432,000), the E V12 is not for the merely rich.
Did we forget to mention that all this is delivered on a rear wheel drive powertrain?