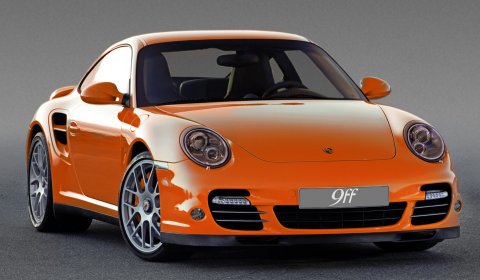 Tuner after tuner introduces their program for the new Porsche 997 Turbo unveiled at the IAA 2009 last year. 9ff is next in line to deliver a total of three stages for the new 911 Turbo producing 500bhp stock.
9ff offers a line-up starting at 530PS up to 640PS. The first named 9ff DR530 produces a maximum power of 530PS (390kW) and a maximum torque of 735Nm. The conversion includes a stainless steel valve exhaust with 9ff design end pipes, sport catalytic converters, sport air filter and ECU upgrade.
The second package is named 9ff DR580. The maximum power is 50PS (36kW) higher than the first stage. The torque reaches up to 800Nm. The conversion includes the same parts as the first stage.
The third and last package produces up to 640PS (471kW) and 830Nm of torque. The 9ff DR640 program includes the same parts as the previous stages. Extras are new intercoolers, a stainless steel exhaust manifold and a new clutch for the six speed manual gearbox.
The 9ff DR640 does the sprint from 0-300km/h in only 26 seconds. Technical features like the PDK (Porsche Doppelkupplung) as well as the Sport Chrono Package Turbo are adapted to suite the new changes.
The German tuner also offers a new aerodynamic kit in GTurbo design. The kit is also available for the previous Porsche Turbo model. It consists of a front apron with LED indicators, rear wing and a rear apron.
The wheels kit in GTurbo design is available in the dimension 8,5×19 inch / 11×19 inch. Optional 9ff can install a central lock system.
Prices are available too. The performance packages change owner for respectively €4,980.00, €8,980.00 and €17,980.00 for the DR640 kit. The GTurbo aero kit costs €8,900.00. The wheel set goes for €4,980.00. The centerlock version is €5,980.00.