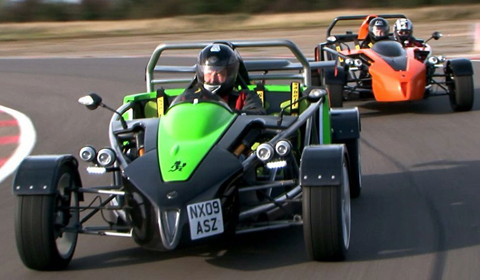 I think most of us will agree that big, UK-based car manufacturers are a thing of the past. However, there are still niché companies such as Morgan, Areil, Caterham and Lotus producing lightweight, low production sports cars. SDR Sportscars are yet another company looking to get a foot into the market. The SDR Sportscars WR3 V-Storm got an official unveil at last weeks 2010 Autosport International Show in Birmingham, UK.
The first thing we noticed (we're sure it was also on your mind too!) was the amazing resemblance to the Areil Atom. So what makes the SDR Sportscars WR3 V-Storm different? For starters, there's the three seat, McLaren F1 style setup. We presume this has benefits for those people who drive alone on track days by allowing for equal weight distribution.
At the back you will find a Subaru sourced four-cylinder boxer engine tuned to around 300bhp. Couple this with the low weight (700kg) and you get a 500bhp per tonne trackday/road racer that can achieve 0-62mph sprints around the low 3 seconds mark.
Simon Dickens, SDR's managing director said, "I wanted to develop something new and exciting that gets the pulse racing and offers the thrills of a Seven, but with dramatic modern styling and the capability of carrying three people."
[Via WorldCarFans]