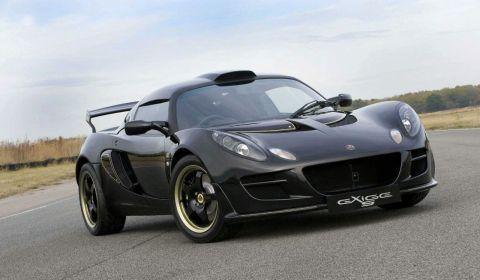 When reading 'Type 72', the die hard Formula 1 fans will inevitably think about Lotus most successful F1 car of all time that made furore with twenty Grand Prix wins between 1970 and 1975. To honour these achievements Lotus has released the Exige S Type 72 Special Edition. The British car maker will be producing twenty units for the UK, a further twenty units for the European mainland and a limited run of cars in Japan and selected markets around the world.
To draw even more attention, the colour scheme of the Exige S Type 72 equals the famous and easily recognisable black and gold livery and is finished by the same person who painted racing cars for Team Lotus. With a total weight of just 935kg (2061lbs) and a Type 72's supercharged engine producing 240bhp a sprint from standstill to 62 mph (100 kmh) is done in just 4.7 seconds. Top speed is reached at 145mph (233km/h).
The Sport Pack includes a bespoke high quality interior, sports seats with gold stitching and a adjustable anti-roll bar. Each unit gets a special build plate to remind you of the F1 car's 20 Grand Prix victories. The exterior gets a set of unique black and gold light weight wheels and is finished with hand-painted logos.
Luke Bennett, Operations Director for Lotus Cars Limited stated:
The Lotus Exige S Type 72 is an evocative sportscar, combining cutting edge handling and performance with the iconic Type 72 colour scheme, one of the most famous racing liveries of all time. The Exige provides an intense driving experience either on road or track and this limited edition is a worthy car to celebrate such a legendary racing car.
Clive Chapman, Director of Classic Team Lotus said:
The Type 72 was a very significant car for Team Lotus and indeed for the world of F1. It was a revolutionary design that pioneered the use of side mounted radiators to achieve its distinctive "wedge" profile, which delivered a significant aerodynamic advantage. Furthermore, by minimising unsprung weight and using a torsion bar, rising rate suspension, tyre performance was excellent. The Lotus Type 72 design was so advanced that it was competitive for an extraordinary six years.
The Lotus Exige S Type 72 will be sold for £35,995 in the UK and you can get one for €40,332 in Europe.