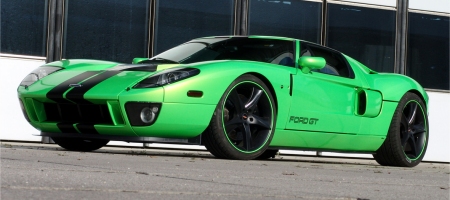 US car specialists GeigerCars.de from Munich has unveiled the Ford GT Geiger HP 790. The GT is the third car developed by Karl Geiger after the Dodge Challenger SRT-8 (569hp) and the Corvette Z06 Bi-Turbo (890hp).
The supercar's 5.4 litre V8 engine can reach 790 horsepower, 240hp more than its series equivalent. The source of this explosion of power? Above all the replacement of the series-produced 2.3 litre with a more powerful 4.0 litre compressor which blasts the combustion chamber at over 1.25 bars. Larger throttle valves and a sports filter were also installed to supply the eight cylinders with more fresh air. The engine and gear cooling systems were adjusted as well as engine electrics and the two 110-millimetre sports exhaust tail pipes.
Geiger HP 790 goes to 100km/h in just 3.6 seconds, breaks the 200km/h mark six seconds later and reaches 300 kilometres an hour in only 22.8 seconds. Maximum speed is 360km/h. The supercharged V8 reaches maximum power at 6320rpm and its maximum torque – 863Nm – at 4600 revolutions.
On the subject of looks Geiger lowered the car up to 60mm. The matt black alloy wheels outline in the car colour and are mounted in 9×20 inches at the front and an impressive 11×21 at the rear. You will spot 245/35R20 Dunlop SP Sport Maxx tyres on the front axle and 325/30R21 tyres on theback axle.