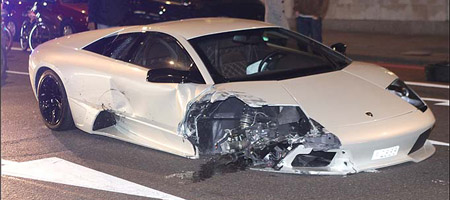 Late on Monday night a Monaco registered Lamborghini Murcielago caused a nightmare for commuters near Park Lane, London, after the driver managed to rip the front corner of his Italian supercar.
Details of how the accident occurred are scarce, but it seems that the driver was leaving an underground car park on Park Lane, and crunched into a kerb ripping the front right bodywork to bits and completely tearing the wheel off.
It also looks like in the process of the wheel being torn off it smashed into the passenger side door of the LHD car resulting in a massive wheel shaped dent in it.
No one was hurt in this crash, though the passengers airbag did go off.
[Via Autotrader]