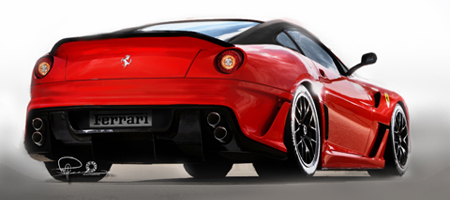 Rumours have been working their way through about a hardcore 599 for quite a while. We even noticed a few test mules recently suggesting that something is on the way. Today, we've got some new info to share with you including fresh rumours that the car may be called the "Ferrari 599 GTO Limited Edition".
Figures that are being thrown about include weight reduction of between 45kg and 68kg as well as a power figure somewhere between 680bhp and 700bhp. If this car does come, naturally, we'd expect it to take the crown as the fastest Ferrari road car of all time.
The last of the new info suggests that there could be around 500 units produced with a price increase of around 20 – 25% over the standards 599. Customers may receive cars as early as October 2010.
For those who don't know, the names 'GTO' and 'Ferrari' are synonymous with some of the the fastest and most collectible cars in the world. Among the classic Ferrari's that use the name are the 250 GTO, widely reputed to be the worlds most expensive car, and the 288 GTO. Needless to say, both these cars had reputations on the road and the track.
[Via WorldCarFans, Autogespot]