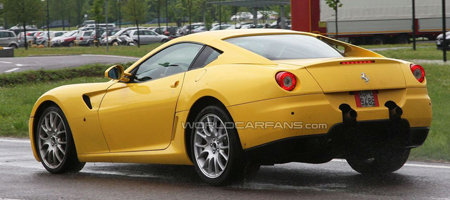 Was the Ferrari 599XX Concept a taster for a 599 Scuderia? These spyshots suggest that it may well have been! It was caught testing recently at Ferrari's Fiorano test track by spy photographers.
The modified exhaust system is placed in the same position as the concept car and the 430 Scuderia. According to to photographers, the car had a noticably different sound from the standard car which adds further weight to the speculation.
After being on the market for a few years, sales of the 599 are starting to slow which gives Ferrari good reason to release this special, hardcore model.
Previous Scuderia models have mainly featured weight reduction features over increases in power output. If the 599 Scuderia were to be released as a production ready car we wouldn't expect it to be any where near as hardcore as the 599XX Concept we saw at Geneva.
The 599 Scuderia sounds like a fantastic idea to us! What's your opinon?
[Via WorldCarFans]