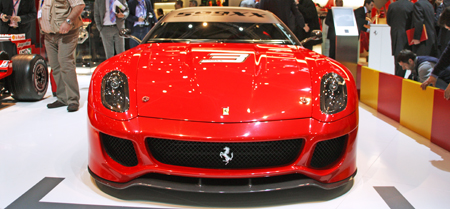 This morning we had a closer look at Ferrari's 599 XX. The car that is Ferrari's attempt to create a new challenge for it's most loyal and demanding customers will cost € 1.100.000. Although Ferrari stresses it's not a replacement for the FXX, a comparison is quickly made.
The FXX laps Fiorano in 1 minute and 16 seconds, the 599 XX does it in 1 minute and 17 seconds. It shows how capable the new 599 XX is on the track. Ferrari plans a series of 6 races for the 599 XX in 2010 followed by one final race. If you buy the car your entry in two of those races and the final race is included. Before you're handed the keys of your brand new car you will get a shakedown in Fiorano by Ferrari drivers. During the racing season you will be trained and coached by professional FIA GT drivers.
Sadly this car is not intented for road use and it seems like the use of the car will like the FXX be limited to Ferrari events mostly. How many cars will be build depends entirely on demand.