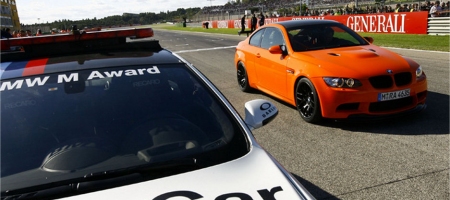 At the season finale of the 2009 MotoGP in Valencia, BMW honored nine-time world champion Valentino Rossi with the 'M Award'. He was the fastest man over the seventeen rounds of this year's GP. The prize was a standard BMW M3 Sedan. BMW gave Rossi the opportunity to test the brand new lightweight BMW M3 GTS on the Valancia track.
The 450hp street-legal racer made its first public debut at the Ricardo Tormo Circuit. Rossi, who drove the M3 several laps around the Valencia track, said:
It was amazing in the GTS. Just amazing. It was great, especially under braking with the light weight that it has.
He's planning to be one of the first to buy the special model when it goes on sale next year. The lightweight M3 GTS coupe will go on sale early 2010 and will cost him 115,000 euro (£102,000).