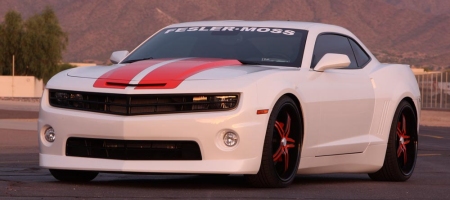 Fesler-Moss, a joint cooperation between Jon Moss – the former director of GM's specialty vehicles division – and Chris Fesler – owner of the muscle-car tuning firm Fesler Built – have unveiled a series of packages for the 2010 Chevrolet Camaro. The kits are available as a modification or including the muscle car.
The complete kit includes all sorts of performance and cosmetic parts. Just a short list of examples are blacked out headlamps and tail lights, an adjustable coil over suspension, a carbon fiber bodykit, 22-inch alloy wheels, supercharger kit and 6-piston brake upgrades. They even offer a LS7 or LS9 V8 engine swap.
In total three packages are available; Enhancement Package, Competition Package and Limited Edition Package. The main differences are the content of the packages. Just to give some inside into the prices and available options for each page we added an overview image in the gallery. Prices start at $55,000 for the smallest kit including car up to $150,000 for the Limited Edition vehicle.
To give you an idea of the real deal Chris Fesler uploaded two videos to Vimeo containing the black camaro on display.