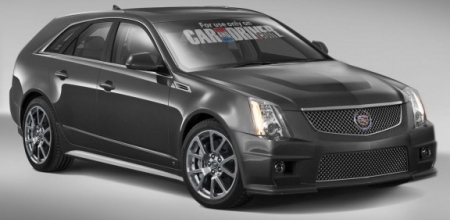 During a recent one-on-one interview with Car and Driver magazine GM's vice chairman Bob Lutz confirmed that the 556hp Cadillac CTS-V wagon will go into production. The wagon will be the third member of the CTS-V line-up.
"You know what's really going to get you guys is the CTS-V wagon", said Lutz. The journalist responded "Oh, has the wagon been confirmed?" "Yes," he replied, "You'll be able to get the CTS-V anyway you want." Great news if you are in favor of sporty wagon build by a US manufacturer.
The CTS-V Sport Wagon accompanies the CTS-V Sedan and the upcoming CTS-V Coupe which will drive and appear next year. Lutz didn't provide any time frame for this arrival, but we think that GM made a nice decision to put this model into production and expand the line-up. Still Europe is the only region where power stations like the M5 Touring and RS6 Avant are surrounded by a large amount of enthusiasts.
We still have to wait and see what the vehicle holds when it hits the roads and can be compared to the existing group of sporty wagons.