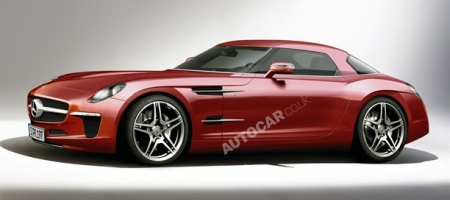 After the first indication last week Mercedes-Benz has given its AMG division the green light for a second stand-alone model to sit alongside the new SLS. The new two-seater will be cheaper and much smaller than the SLS. It will arrive in showrooms in 2013.
"Mercedes' management has been very supportive of AMG's efforts in developing the SLS," a senior official indicated to Autocar. "The feedback we've received since showing the car at the Frankfurt motor show has been extremely encouraging. A second model that will project a similarly exclusive image but be more accessible in terms of its pricing is already in planning."
It is said that the 'baby' SLS will encapsulate the spirit of the 1928 SSK, whose name is taken from the German words Super Sport Kurz ('kurz' means 'short'). The new AMG will come in a choice of two body styles: coupé and roadster – preferably with a cloth roof to keep weight down. The SLS's gullwing doors will be absent in the design and be replaced by 'normal' doors.
The setup consists of a lightweight aluminium spaceframe and double wishbone suspension. The engine is an all-new 500bhp twin-turbocharged 5.4-litre V8 engine, currently developed for the upcoming CLS55 AMG. It is placed in a front-mid arrangement and will drive the rear wheels via a seven-speed double-clutch transaxle and locking differential. Performance benchmark is Porsche's 911 Carrera S. That would mean 0-62mph in 4.5 seconds and a top speed of around 180mph.
Priced from £80,000 – a price difference of £70,000 with the SLS – its main rivals will be the Porsche 911 and Audi R8.
Autocar also indicates a full electric version of the new car is being planned, employing a similar set-up to the SLS eDrive, with four in-wheel motors and lithium ion batteries. It should provide a range of up to 112 miles on a single charge, with 0-62mph acceleration in under 4.0sec and a top speed of 120mph.