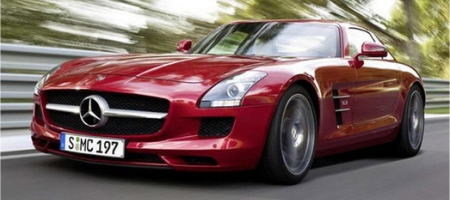 AMG latest family member is the SLS AMG Gullwing. Mercedes is showing the world the new vehicle and during a media launch in California they confirmed their intention to extend the AMG model line-up in the upcoming years. However, the first follow-up is at least five years away.
Logical, because the current SLS has to show what is up too and there is no official internal 'yes' on any project. Still there are talks inside the Mercedes and AMG headquarters about the future line-up. A more compact sports car built around a version of the SLS chassis would be an option. A rear-engined setup is out of the question.
The baby SLS is – if we believe Pistonheads – likely to feature a new-gen V8-engine with a capacity of 5.8 to 6.2 litre. This new engine is mend for the next-generation SLS anyhow, but the baby will possibly get a lower output. Other change is a shorter front end, decreasing the space between the engine and the front bumper.
Before we see the smaller version, three other introductions will have been finalized. First the cabriolet version of the current SLS revealed late next year and secondly a new GT racer hitting the race tracks in 2011. It is unknown in which championship the SLS racer will compete. The thrid vehicle is a Black Edition of the SLS. Little is known about that car, only that it got a green light at AMG HQ.