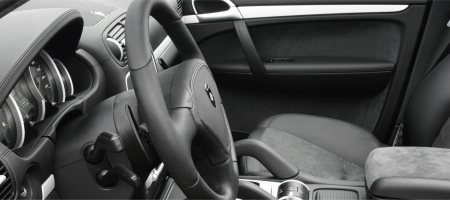 German tuner Gemballa extends its steering wheel programme with a new product for the Porsche Cayenne with automatic transmission. The new steering wheels measures only 365mm in diameter and has an ergonomic shape for extra grip.
Gemballa placed F1 rocker switches behind the steering wheel rim – up is right and down is left. Safety is guaranteed via the integrated full size airbag. Its three-spoke design is accompanied by a choice of numerous colour variations in order to match each serial or optional configuration. The parts are made of leather and carbon segments.
The steering wheel – approved by the Technical Control Board (TÜV) – has an introductory price of €1,680.