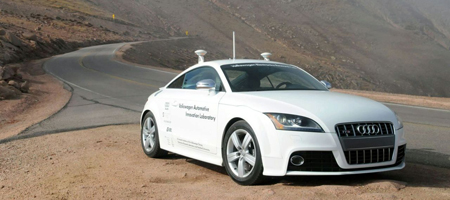 Audi announced their plans for an Autonomous TT-S this week, together with a team from Stanford University they aim to enter it in the Pikes Peak International Hill Climb. The car will be named 'Shelley' and will be based on the floor-plan of the TT-S. The car will use a drive-by-wire system.
To the best of our knowledge, the TT-S should be able to complete the course under it's own steam. No drivers and no remote controls.
Audi have stated their goals as being, "to collaborate with Stanford to build an autonomous vehicle capable of completing the Pikes Peak International Hill Climb in a reasonable time using rally driving techniques". We'll keep you informed on the teams progress. In the mean time take a look at the video, pictures and specifications below!
Vehicle:
Make and model: 2009 Audi TTS
Engine: 2.0L Turbocharged I4 DOHC
Transmission: 6-Speed S tronic automatic transmission
Fuel Consumption: City: 21 mpg
Highway: 29 mpg
Combined: 24
Power: 265 hp & 6000 rpm1
Torque: 258 lb-ft. @ 2500 – 5000 rpm
Top speed: 155 (249km/h),
Acceleration: 0-60mph: 4.9sec
Weight incl. sensor: ~ 1470kg.
Drive-By-Wire:
Steering: Modified "APA-BS" (Axially Parallel Actuation-Braun-Schweig), a new production electric power steering system with direct by-wire control through custom ERL Electronics.
Throttle: Electronics from VW ERL reproduce signals to emulate a driver pressing on the throttle.
Brakes: Active brake booster from Continental with by-wire control through ERL Electronics.
Gear: Modification of signals exchanged between transmission and gear shifter using custom ERL electronics on production hardware.
Parking brake: Use of stock electric parking brake from VW Passat through a custom ERL electronic interface utilized on Junior.
Safety:
In addition to multiple redundant systems for vehicle control, and emergency shutdown the Pikes Peak TTS has a Solaris based system running a Java RTS system monitor that can perform a vehicle shutdown if it determines conditions have become unsafe.
As a backup solution, the vehicle includes a telemetry system that can transmit all vehicle parameters to a receiving station up to 20 miles away which can also shut down the vehicle remotely, or order the safety systems to engage and bring the car to a controlled stop.