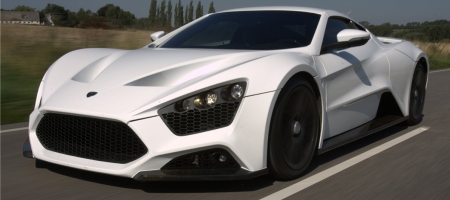 As we stated before, the Zenvo ST1 has come a long way. The research and development for the first prototype started in 2004. The prototype has been completed and was presented for a public audience for the first time at Le Mans 24 hour race this year. Today more information has been unveiled.
Zenvo Automotive starts a series production of the Zenvo ST1. It will be limited to only 15 cars. S in the name stands for Supercharger, T for Turbo and 1 for model number one. The whole ST1, including the steel space frame and carbon body are 100% built in Denmark as is the design.
The power is supplied by a 7,0 liter V8 engine with both a supercharger and a turbo produces 1,104bhp. Zenvo states that it gives the vehicle the character of a normal aspirated engine but much more powerful. The engine is a Bio Flex engine. It can run on normal unleaded 98 (RON) or on Bio fuel (E85) or both combined. The car is standard delivered with a manual six- speed gearbox which is specially developed to handle the enormous torque and power. A paddle shift solution is also available.
Inside the Zenvo ST1 you will find some decent options such as an A/C, build-in navigation and DVD system using a 7½-inch screen. You can also connect the rear view camera to make reversing easy. The audio system serves as a basis for your iPod, MP3 player, CDs or radio. The racing seats are both electrical adjustable, as is the steering wheel.
The key-less go system let's you leave the parking spot without turning a key. Simply press the "start engine" button. A head up display gives a perfect overview of the driving information. Two airbags are build-in for extra protection and safety. Other systems are a cruise control and automatically locking the doors after you have left the car.