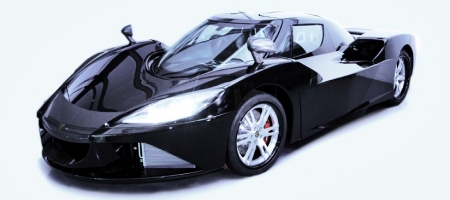 The latest supercar from the UK is this Arash AF-10, based on the Noble M600. The body and chassis are both carbon fibre and hold the 7.0-litre V8 engine found in the Corvette Z06 and an exhaust system with active valve control. The engine produces 498bhp to 550bhp and a total of 465lb.ft at 5000rpm. A six-speed manual Graziano gearbox converts the power to the rear wheels.
Carmagazine.co.uk states there will be an AF-10S with a supercharged and intercooled version of the 7.0-litre V8 with 800bhp and 553lb.ft. Arash isn't planning to use the ZR1's supercharged motor, but plans a four-figure output version with 1001bhp and 700lb.ft.
The wheels are 19-inch front and 20-inch rear. The suspension is double-wishbones all round, designed for compliance rather than track work. It seems like Arash has been shopping around, but only three percent of parts have been carried over from other cars.
Loris Bicocchi, the man who helped develop the Koenigsegg, the Veyron and the KTM X-Bow will do the development work. It starts in 2010. Around 70 cars are expected to be built over the next five years, next to a smaller-but-still-exclusive AF-8 version. It's the brainchild of Arash Farboud, who originally created the Farboud GTS that has morphed into the Farbio. Price tag? The AF-10 is yours for £320,000, €355.000 or $534.000.