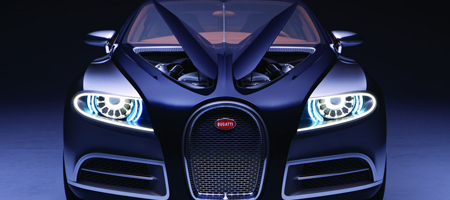 Bugatti have finally got around to releasing a few extra photos of their new 16C Galibier concept. The release of the images coincides with the first unveiling of the car to customers and members of the press in California, US. Along with these new images, we get fresh details about the car that Bugatti have been trying to keep from the gaze of the general public since they first revealed the images almost two months ago.
We now know that the Galibier is fitted with four bucket seats and exquisitely sculpted head rests. There's also a fine mix of modern and contemporary when it comes to the dashboard. Digital dials take pride of place before the drivers eyes, whereas analogue dials allow passengers a view as well. Apparently, the concept is a long way off being production ready which is a shame as Bugatti have limited themselves to just one-off Veyron's to celebrate their centenary.
Underneath is supposedly the 8.0 litre W16 from the monster Veyron. However, we hear that this has been de-tuned to a figure between the 800-900bhp mark and has also lost two of it's four turbochargers.
We can't wait to see it in the skin but there's no plans for an official public unveiling at the moment so we're not sure when that will be. Either way, Bugatti have us interested so we'll bring you more info as and when we get it!
[Via Autoblog]