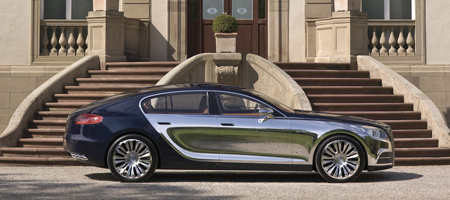 Bugatti have just taken the covers off their latest project, the Galibier 16C. In it's current concept form the Galibier will be shown to the press for the first time tomorrow at the IAA 2009. As you can see from the pictures it is a four-door utilising the same engine as the Veyron. It's named after the 1939 Bugatti Type 57C Galibier Saloon.
The Galibier utilities large amounts of carbon fibre in it's construction which aims to keep weight down. Not only is the car a homage to the T57C it also incorporates several design features of the T35. As the rumours and leaked images suggested, the Galibier 16C does feature eight tail pipes and the Veyron's W16 engine producing an (as yet) unknown amount of power.
It looks almost certain that if this car were to make it into production, it would be the fastest four-door production car ever. The 22 inch wheels, carbon ceramic brakes and four-wheel drive all keep this luxury saloon on the tarmac.
Not much is known about the car at the moment, hopefully that will change in the coming days. What we can guess however is that the IAA 2009 will miss out on seeing this new concept as the information we have makes no mention of the event.