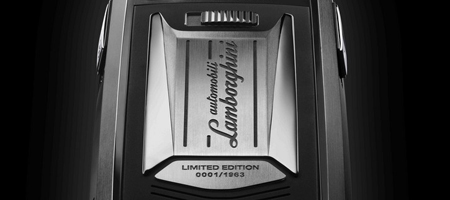 Generally, here at GTspirit.com, we restrict our coverage to anything with four wheels and an expensive price tag. However, we're also big fans of the luxury lifestyle so when we received info on this new Lamborghini inspired Tag Heuer phone we thought we had to share it with you. This phone is a little bit special and will only be sold through Lamborghini and Tag Heuer dealers at an unknown price.
The Meridiist has been designed to perfection as you would expect from two of the most reputable companies in the business. It blends precision timing with ultra-high end materials and features. The handset itself is made from 316L stainless steel covered in black titanium carbide and the screen makes use of 60.5 carats of scratch-resistant sapphire crystal.
The keyboard is carved from stainless steel and backlit, Tag Heuer have also included a small 2.0 megapixel camera. What caught our attention the most however was the claim that the battery can last seven hours of talk time and 28 days on standby.
It's sure to be an ultra limited edition of only 1963 pieces. If you want one remember to head for Tag Heuer or Lamborghini dealerships!