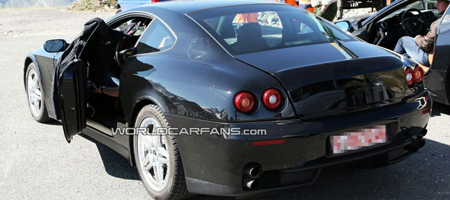 Were suspecting this test mule hides a little more than a face lifted version of the 612 Scaglietti. The 612 is definitely due a replacement so our guess is that this mule shows a future replacement model. It was spotted again, but this time testing in the Alps alongside a Ferrari California and bearing a few visible differences.
All we can do is speculate about what Ferrari are testing but there are a few interesting talking points. To start with we can make out the Ferrari California style exhausts. Bearing in mind the limited success of this style on the California we hope they don't make it into production.
Next there's the huge power bulge in the bonnet which suggests that there's something a little bigger under the bonnet. The extra air holes in the bumpers make this even more of a likely conclusion. The car also looks physically longer which might hide a whole new chassis set-up.
Anyway, it's speculated that the car will be unveiled in 2012 so Ferrari still have plenty of time to perfect the design. Let us know what you think.
[Via WorldCarFans]