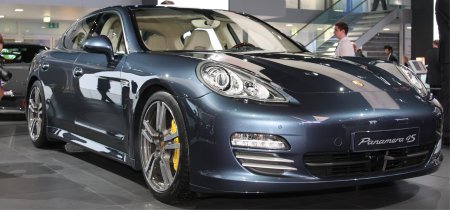 After numerous of posts and information our real experience with the Porsche Panamera was due for the IAA 2009. We finally got the change to check out the new four-door luxury car from Stuttgart, Germany. Not only from the outside, but also the interior of the saloon. We ended up inside the best looking Panamera 4S displayed equipped with some decent Porsche Tequipment and Exclusive accessories.
We must say the Panamera never stole our hearts at the beginning. The luxury saloon gave us a better feeling each time we saw it. On the roads and real live the Panamera is a much better looking car than we thought. It is a long and big Porsche, you have to get use to that, but overall it is a real Porsche from start to finish. Every little piece on the car breathes the Porsche feeling and proves to be of a standard you would expect from the German sports car brand.
All figures have been discussed before, so we will not discuss them again. Those figures indicate a proper luxury sports car. However, we weren't able to drive test it yet, so discussing the driving characteristics will be something for the future.
The inside of the car we entered was outfitted with a line-up of gadgets and materials from the Porsche Exclusive and Porsche Tequipment programs. The finest materials such as leather, wood, aluminium or carbon are available at your chosing. The car displayed had the Yachting Mahogany Interior Package with trim panels on the dashboard and the doors as well as trim covers on the centre console.
But it didn't stop there. Within the interior, the louvers on the air vents, the sun visors, the interior mirror, the trim cover on the steering column and the seat console front and rear were all in leather. The gear selector lever of the double-clutch transmission, the PDK transmission system, were made of aluminium. The seat belts were Silver Grey and the car had illuminated door cutout trims.
On the subject of entertainment the car displayed had a Porsche Rear Seat Entertainment system with two high-resolution seven-inch colour displays integrated in the backrests of the front seats, as well as individual players and two cordless infra-red headsets. The leather-covered display consoles each come with a USB interface and touchscreen displays. You can play DVDs, CDs or connect your mp3 player.
The overall interior package can be enlarged with other parts designed in even your own taste. Porsche Exclusive can address any wish you may have. However, Porsche indicated to us that the installation of an ejection seat will not be possible. A fighter pilot from the US had this amazing wish a few years back.
People interested in the package can contact their local dealership.