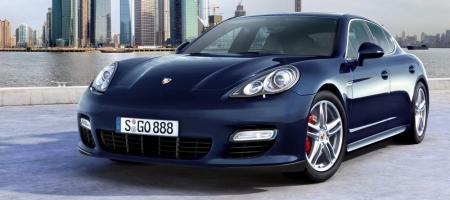 Porsche has officially unveiled their Panamera to the world today. Joining the 911, the Cayenne, and the Boxster/Cayman, the new four-door Gran Turismo is Porsche's fourth model series, with three variants entering the market in Germany on 12 September 2009. The first model will be a 4.8-liter direct-injected V8 delivering 400 and 500 horsepower and is available with both rear-wheel and all-wheel drive, a supercharged 3.0-liter V6 engine and hybrid model following later on.
The Panamera measures 4.97 metres in length but only 1.42 metres in height and is equipped with several new features. Porsche's Gran Turismo will have a Start-Stop system in conjunction with automatic transmission, air suspension with additional air volume available on demand in each spring, as well as active aerodynamics with an adjustable rear spoiler on the Panamera Turbo.
As customer you can choose among steel suspension or adaptive air suspension with a fully-controlled damper system. Depending on the traffic and/or road conditions, you can choose either a particularly comfortable or an especially sporting set-up.
The model gamma consists of three versions: Panamera S, Panamera 4S and Panamera Turbo. Each model has different characteristics and a centre console extending all the way to the back of the car. The single seats in the back are divided by the console.
More information on the new Porsche family member will follow during the summer and before it hits the showrooms in September.
Videos: