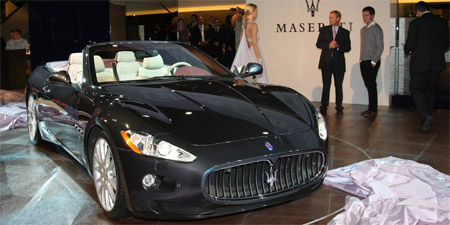 With the summer nearly coming to an end Maserati released the details of their Maserati GranCabrio that should conquer the streets next summer. Here in Frankfurt we had a chance to take a closer look at the new Maserati Gran Turismo convertible!
The Maserati GranCabrio on display had a very nice dark grey exterior color matched with a brown soft-top. The interior consists of beige leather with brown trimmings and white wooden door inlets and the same white wood is used to cover the steering wheel. Since it has the longest wheelbase of all convertibles in it's class the interior space is bigger than you would expect from a convertible version of a true GT.
This very sophisticated supercar convertible will see it's first deliveries in spring 2010. Maserati is taking orders for the GranCabrio now. Read more about the Maserati GranCabrio and the technical specifications here.