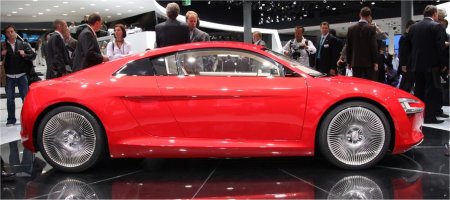 Audi's highlight at the IAA 2009 was the new e-tron concept, their first attempt creating a high-performance sports car with only an eletric system on-board. Four separate motors are attached to the front and rear axles, creating a quattro system. The R8-shapped model produces 230kW or 313hp and 4,500Nm of torque. A sprint from 0 to 100km/h (62mph) is achieved in 4.8 seconds. The top speed is limited to 200km/h (124mph).
The build-in lithium-ion battery – placed directly behind the passenger cabin – provides a 42.4 kilowatt hours of energy, which ensures a range of approximately 248 kilometers. But there is more to talk about. A heat pump is used to efficiently warm up and heat the interior. The drive system, the power electronics and the battery are controlled by a thermal management system.
With the battery fully discharged, the charging time is between six and eight hours. A high voltage (400 volts, 63 amperes) reduces this to just around 2.5 hours. The Audi engineers are currently working on a wireless solution, called inductive charging.
The Audi e-tron is slowed by four lightweight ceramic brake discs. This decoupling of the brake pedal enables the e-tron's electric motors to convert all of the braking energy into electricity and recover it.
Audi did mention that there is still a lot of work to do before electric cars are ready for volume production. The German manufacturer indicates that the greatest challenge is the integration of the efficient energy storage system. Also the generation of the energy used by the car could be a discussion. In stead of using petrol in the car, the energy is produced by non-environmental friendly power plants.