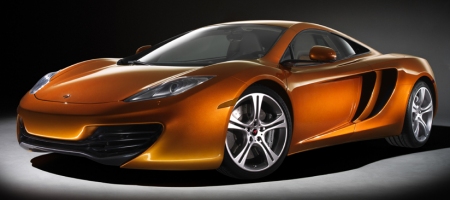 Today is an important day for a well-known British race engineer. The manufacturer from Woking, England has finally announced the first in a range of high-performance sports cars build around the heritage and expertise of McLaren.
McLaren's automotive division is known for its supercars; the McLaren F1 (1993-1998) and the Mercedes-Benz SLR McLaren (2003-2009). They now look into the future with a new range of revolutionary sports cars.
The MP4-12C is build around a cabron fibre chassis structure; the Carbon MonoCell. The MP4 is made from a single piece, weighing only 176 pounds. The high performance two-seat mid-engine model got the Proactive Chassis Control system ensuring handling and ride comfort and the Brake Steer system allowing the driver to adjust the brake balance when exiting slow speed corners, eliminating understeer and wheelspin as a result.
The 12C is powered by a bespoke McLaren 'M838T' 3.8 litre V8 twin-turbo engine producing around 600bhp. The engine can rev up to 8,500rpm. 80% of the torque is said to be available from as low as 2,000rpm. This means will be able to see great 0-60 times and top speed of at least 200+ mph. A seven speed Seamless Shift dual clutch gearbox (SSG) is available to convert the power to the road. Inside the box the Pre-Cog lets the driver load up the next gear by half-squeezing the paddle and then engaging with gunshot speed.
'MP4′ is the chassis designation for all McLaren Formula 1 cars since 1981. It stands for McLaren Project 4, resulting from the merger of Ron Dennis' Project 4 organisation with McLaren. The '12' refers to McLaren's internal Vehicle Performance Index. The 'C' refers to Carbon.
If you look at its main competitors you will notice that is placed in the mid segment. The 'core' segment runs from around £125,000 to £175,000 featuring such cars as the Ferrari 458, Lamborghini Gallardo, Porsche 911 Turbo, Bentley Continental GT and Aston Martin DB9. A higher segment is the category with prices ranging from £175,000 to £250,000 and consists largely of front-engined GT cars such as Ferrari's 599 GTB and 612, with just one mid-engined contender, the Lamborghini Murcielago. McLaren states that the MP4 will bring the exclusive character from the higher segment into the core segment with a price of £150,000 (€170,000).
McLaren is planning on building 1000 units in 2011, a quarter of which will go each to the domestic UK market and to the United States.