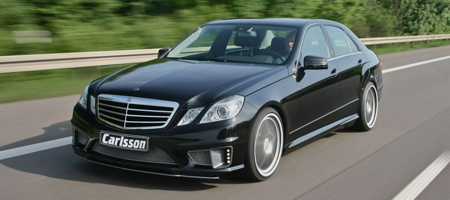 Tuners are just starting to get their hands on the E63 AMG. Carlsson's example is today's new release. It sees an increase of 60bhp and 65Nm of torque whilst the body work also experiences a number of cosmetic and aerodynamic tweaks.
Under the bonnet, the E63 AMG donor car remains free from any drastic changes. Instead there's a new exhaust and and ECU map which together, spice up what the E63 AMG already had to offer. This opens up 585bhp and 695Nm of torque easily making the Carlsson E-CK63 RS faster than the standard car.
The new front, side and rear skirts are all made from polyurethane. As well as these parts there is a new carbon diffuser which channels air under the car allowing for more grip and an increased 0-100kph (62mph) time of 4.5 seconds. A set of Carlsson 1/5 REVO 20 inch alloys finish off the exterior.
On the inside there's a delicate interior comprising of the most comfortable materials including leather and ultrasuede. Even the floor mats have illuminated Carlsson logos!
[Via WorldCarFans]