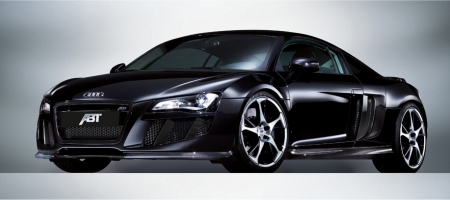 One of the biggest and well-known tuners around the world is ABT Sportsline from Kempten, Germany. Their latest project is a full kit improving the Audi R8 V10. The kit produces more power, more torque and includes a new bodywork package, different wheels and a four-pipe exhaust system.
The V10 engine inside the Audi sports car has a power capacity of 5,204 cubic centimetre producing 525HP and 386kW. ABT added some more to it. 75 extra HP or 55 more kW are available at your demand. Acceleration from 0 to 100km/h in just 3.8 seconds and a top speed of 322km/h are part of the deal.
The new bodywork package is designed by the DTM crew of ABT Sportsline according to the latest motorsport knowledge. They used high-end carbon materials and focussed on the optimum distribution of weight and a light-weight construction. The front spoiler, side sills and rear apron are brand new and make up the new aggressive style of the vehicle. The distinctive rear wing and the ABT 4-pipe exhaust system are design details you will only love or hate. The package is complete with BR-type 20-inch wheels.