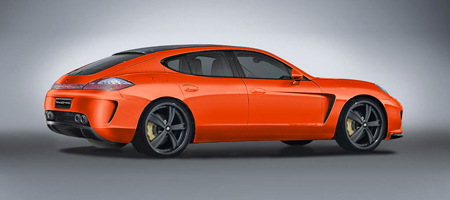 Gemballa have released more details about their latest project, the Gemballa Mistrale. It's the first saloon car that the company have worked on, however, that shouldn't be too much of a problem as it shares it's engines with the rest of the Porsche family.
Theres a wealth of new bodykit on the Mistrale, a new front splitter, plenty of new air vents, a new front and rear fender as well as a carbon rear diffuser. There's also a new quad exhaust set-up. We've already mentioned all of these cosmetic changes in our last post.
The real new info is on the engine tuning that Gemballa offer for this car. They claim that almost 750bhp is possible from certain engines (probably the versatile 'turbo'). To keep this power useable, 22inch forged rims and new performance brakes are advisable. They come in 420mm and 380mm sizes on the front and back.
A new air suspension system allows the mistrale to be lowered by up to 40millimeters as well.
For more information, contact Gemballa via their webpage: www.gemballa.com
PRESS RELEASE
GEMBALLA MISTRALE – the new, fascinating GEMBALLA luxury limousine based on Porsche Panamera models

Right at the market introduction of the Porsche Panamera, GEMBALLA Automobiltechnik GmbH & Co. KG for the first time publishes images of the GEMBALLA MISTRALE and presents fascinating features. The design of the GEMBALLA luxury limousine is even more dynamic, more striking and significantly more exclusive than its serial counterpart. For perfect surface quality and custom-fit processing of the newly designed aerodynamics components, GEMBALLA mainly uses the ultra-light and high-strength material carbon.

Part of the dynamic front look is a far more sporty front skirt. Larger air inlets guarantee the optimal supply with fresh air for future performance increases. An integrated carbon lip and an elegantly formed bonnet with slotted ventilation ducts complete the lifting-force reducing front. A striking eye-catcher of the GEMBALLA MISTRALE and visual allusion to the classic 911-design are the extended front and rear fenders. A newly designed rear apron with integrated diffuser provides enough space for four end pipes of the sport exhaust system and seamlessly fits into the overall package.

But not only design and aerodynamics are refined by GEMALLA. Also the performance of the four-door automobile is significantly improved. A newly programmed air suspension module with extended setting range lowers the centre of gravity up to 40 millimetres. For especially ambitious customers, GEMBALLA offers a height-adjustable coilover suspension. In connection with the ultra-light 22-inch forged rims both versions render best vehicle control and also optimal road contact. For excellent deceleration values and perfect pedal control, GEMBALLA adds a high-performance brake system. 6-piston brake callipers with 420 millimetre brake discs at the front axle and 4-piston brake callipers with 380 millimetre brake discs at the back axle replace the serial components.

GEMBALLA, the specialist for high-end Porsche refinement and innovative engineer design plans further modifications, such as powerful performance enhancements up to 750 hp for different serial engines. And also in the interior, owner Uwe Gemballa leaves his distinctive mark with an innovative design and unsurpassable quality as usual. For more information about the GEMBALLA MISTRALE and the extensive GEMBALLA refining programme, please visit the web site www.gemballa.com