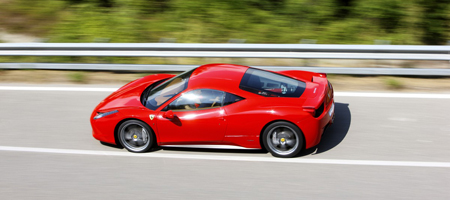 Recently, Ferrari broke cover on the 458 Italia. Their most recent press release details a few interior features of the car, but it also includes a number of high quality pictures. We thought we'd share these with you!
The 458 Italia's cockpit has received a re-thinking from Ferrari's design team. Many of the important dials have been placed on the steering wheel, illuminating the need for column mounted stalks which get in the way of the paddle-shifters.
Other dials have been moved closer to the driver to make it easy to change settings whilst on the move. Dials like the indicators, full beam, engine starter and the shock absorber settings are now placed on the steering wheel for easier and safer access.
Other important dials surround the steering wheel making access safer for the driver. A detail we like is the huge central rev counter.