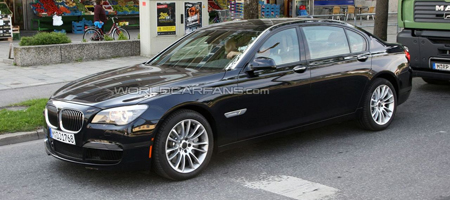 We knew it was too perfect to be true. The M7 prototype we reported on last week has been shot again, this time it's revealed to more likely be an M Sport package. Several M car features are noticeably missing. Firstly the quad exhaust pipes that feature on ever M car and front fender M logo gills like we've seen recently on the M3, M5, X5M, X6M and M6 models.
It's pretty usual to see these hallmarks on the pre-production mules. When we saw spyshots for both the X5M and X6M these two important features were present although they were camoflaged. So the unexplained bulge in the bonet? Probably due to the need for some bulky diagnostic equipment used to perfect the handling.
So, the news is now that the 7-Series will be gaining an M Sport trim spec. When the M3 M sport package was released we saw the inclusion of a new aerodynamic kit as well as some new alloy wheels, stiffer suspension and a 15mm lower ride height. Sports seats and a raft of interior upgrades including Alcantara upholstery were available. The M3 was also subject to a limitation of 4 metallic colours and 2 non-metallic. This is what we can expect from the M Sport 7-Series as well.
It remains to be seen if the M7 does make it into production. Our sources say that theres no plans for it's development so it now looks unlikely. We'd take an M7 over the X5M anyday of the week!
[Via WorldCarFans]