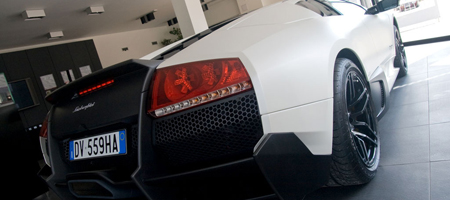 Last week we showed you the first pictures of the standard LP670-4 SV. As we predicted, more pictures have appeared of the car thanks to forum member 'Jaccub' and Automix.cz. The pictures are clearer this time and give us a good idea of what the car looks like. We like it! It looks a little less aftermarket than the big spoiler.
Number 001/350, this white coupe is currently in a Czech Lamborghini showroom and will be placed on display at the Autosalon Brno 2009 motorshow.
The Murciélago LP 670-4 SuperVeloce is more powerful, lighter and faster than the Murciélago LP 640. With the output of the 6.5 liter V12 increased to 670 hp and a weight reduction of 100 kg the LP670-4 SV sprints from 0 to 100 km/h in just 3.2 seconds and eventually tops out at 342 km/h. The LP670-4 production is limited to just 350 cars. It was released at this years Geneva Motorshow.