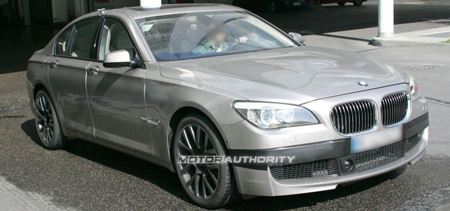 Could these photos show the development mule for a BMW M7? It's something that BMW hasn't produced before but these spyshots suggest that perhaps an M7 is in the works. The car certainly has many of the M-division's hallmarks including noticeable yet subtle bonnet bulge that may hide something a little bit special.
The car was spotted in Germany, speculation was raised firstly by the subtle bonnet bulge, then also by the oversize brakes and aggressively styled front bumper with large air intakes. There's very little info about what could be in store if this is an M7 development mule, however, if it is, what could we expect?
Well, for starters, the car would have to be a V12 to top the recently released 760i. The 760i pumps out an already impressive 536bhp and 553lb-ft of torque. 600bhp would therefore be a respectable gain through the twin-turbocharged unit. Likely also would be the adaption of a harder and more sporty ride with less of the softness we expect from a limo size saloon.
We hope this does materialise into a production ready car, in our opinion it would make the perfect rally car. We'll keep you posted on any new revelations, in the mean time, take a look at the pictures.
[Via MotorAuthority]