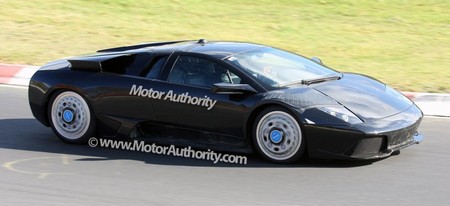 It looks like Lamborghini engineers are starting to look past the aging Murcielago platform and into the replacement for the supercar. These spyshots are supposed to show the early stages of development for the flagship raging bull. They were captured on the Nurburgring during what appears to be a series of tests to monitor the balance of the mules wheel forces.
The car is rumored to remain AWD with a central engine position. Forced to reduce it's emissions, it's likely that Lamborghini will use direct injection technology in order to keep the V12 for their flagship model. The biggest yard stick to measure the performance to expect is the newly revealed LP670-4 SV. 670bhp would be a realistic figure to couple with a dual clutch transmission.
According to MotorAuthority.com, the metal covers on the cars wheels are RoaDyn torque sensors which measure the different forces and torque levels exerted on a specific wheels at different speeds. This aims at fine tuning the cars handling and electronic safeguards to provide an involving and reactive drive.
Other features to look out for are the reduction of the front and rear overhangs. Whilst the replacement car will keep roughly the same wheel base length, the front and rear overhangs will be reduced leaving the car looking shorter than the outgoing Murcielago.
Early 2012 is the current predicted time for the Murcielago replacement to be released making the LP670-4 SV one of the last of the Murcielago line-up. Stay tuned for more information!
[Via MotorAuthority]