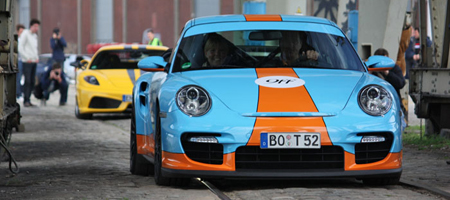 800bhp+ Porsche GT2's are like buses, you wait and wait, then all of a sudden two turn up at once! After seeing what Switzer Performance had done with their GT2, the 9ff BT2 came to our attention. The BT2 name obviously stands for the cars Bi-Turbo status which allows it to achieve the rediculous power output of 850bhp!
850bhp and 920 nm of torque allows the car to reach 100kph (62mph) in a time of 3.0 seconds, 200kph (124mph) in 8.7 seconds, 300kph (186mph) in 18.5 seconds and top speed of 386kph (240mph). Top speed can be reduced, via gearing modifications, to increase acceleration.
The gulf livery looks imposing on the car. It costs €285,000 for the complete package which includes the carbon fiber bodywork we see in the photos as well as lighter alloys and a redesigned exhaust package. Other than this we're led to assume that a mixture of the Bi-Turbo conversion and an ECU re-program create the figures that are quoted.
Thanks go to the photographers who captured the car at a Belgian Cars and Coffee event last month.
[Via MotorWard]