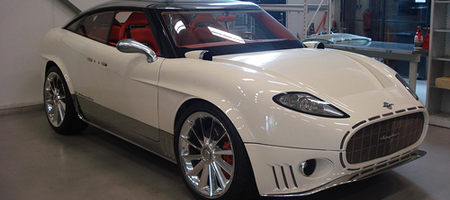 Having negotiated some much needed investment from a Russian source, Spyker are reportedly setting about developing their Peking-Paris concept into a reality. The twist with this one is that instead of the D12 with a V12 engine, we will see a D8 with a V8 as stated by Victor Muller in our interview during the Geneva Motorshow 2009.
It still won't be cheap however. Estimates (or perhaps we should call them rumors) are currently around the £200,000 mark or €227,000 for the SSUV. We are also reportedly looking at a Frankfurt debut for the car with the possibility of sales starting straight afterwards.
To show that Spyker are in the process of developing something of an SSUV nature, we have included some pictures of a Spyker test mule spotted recently testing. Apparently the suspension benefits from Lotus input, obviously the body is from a Land Rover Defender!!