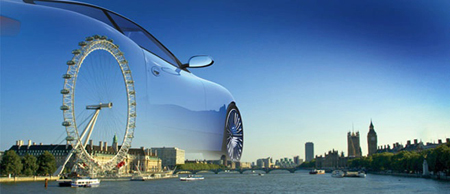 Bad news was announced today by the organizers of the British Motor Show, there will be no 2010 motor show. The press release makes it clear that exhibitors unwillingness to commit to the show was the main reason for the decision being taken. The economic downturn has meant that many of the key exhibitors for the show are cutting the levels of expenditure on advertising in an effort to reduce costs more generally.
The British Motor Show has run almost non-stop from 1903, starting off Crystal Palace then Olympia in London before making it's way to Earls Court in 1937. In 1978 the show moved to Birminghams NEC as it's popularity grew, 2004 saw a move to ExCel Exhibition Centre in London Docklands where the show has been for the past two years.
Last year the show saw a number exclusive releases such as the British made Lotus Evora and the Vauxhall Insignia. Organiser's have refused to rule out a possible 2012 event to precede the British Olympics. Many of the smaller auto shows have experienced the same sort decline in interest from the manufacturers, Detroit saw the withdrawal of Ferrari, Porsche and Nissan which threatened to cripple the shows turnout. The October 2009 Tokyo Motor Show is also facing similar pressures as Ford, GM, Chrysler and Volvo all anounced there withdrawal.
Geneva, however, was buzzing when we visited two weeks ago and we expect a similar turnout for the Frankfurt 2009 show.
PRESS RELEASE
Following a thorough consultation with the UK motor industry, the Society of Motor Manufacturers and Traders (SMMT) has taken the difficult decision to cancel the 2010 British International Motor Show.

SMMT, with the support of the UK motor industry, remains committed to showcasing the achievements and products of the automotive sector. However, the economic downturn and the unprecedented challenges facing the industry both in the UK and around the world, have made it impossible for exhibitors to commit to a 2010 event.

"The British International Motor Show is the UK's largest consumer exhibition, hugely popular with the public, and has been attracting increasing numbers of visitors over recent years, making the decision to cancel the 2010 Show an extremely difficult one. However, the global credit crunch has placed the automotive sector under unique pressure and has created a level of uncertainty that deters manufacturers from committing to large-scale, international events," said SMMT chief executive Paul Everitt.

"The UK has a strong, diverse and highly competitive motor manufacturing industry, home to globally successful companies and iconic products admired around the world. Both SMMT and the industry are committed to displaying the achievements of the sector but in a way that better reflects the changing dynamics of the industry," concluded Everitt.

Speaking on behalf of International Motor Industry Events (imie), the organisers of the British International Motor Show, joint managing director Rob Mackenzie said: "Given the great strides that the Motor Show has taken since its return to London, we fully endorse the decision to postpone BIMS until market conditions will again permit us to deliver a world class event that truly showcases the UK industry."