This is one of the biggest motorshow's on the European continent, and takes place from the 8th – 18th march. For most of our visitors it's impossible to get there, so we bring you the highlights of the Geneva Motorshow. For more general information visit the official site.
1) Artega:
This is a completely new brand. This is meant as a 'close-to-production' model of it's prototype. Under the hood is a V6 producing 300 bhp planned. The topspeed would be over 270 kmh or 168 mph. To find out more about this one, click here.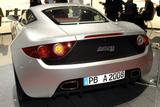 2) Aston Martin V8 Vantage Roadster:
Firstly shown to the big public here, to find out more click here.

3) Chevrolet Camaro (concept car):
This is not a real premiere, but this 6 litre V8 producing 400 bhp will be available in Europe from 2009.

4) Donkervoort D8GT:
We also earlier reported about this one, but this are the first official pictures.

5) Gumpert Appollo Sport:
This is a special edition of the earlier presented Gumpert. There's a nice vid of this one in one of our previous articles.

6) Lexus LFA:
This is a very nice prototype firstly shown at the Detroit Motor Show at the beginning of January, Lexus unveiled this sports coupé concept – codenamed LF-A II – with a V10 engine generating more than 500 bhp. And here it is for the first time in Europe!

7) Spyker A C12 Laturbie Coupe:
Not much news on this one, just these beautifull pictures!

And last but not least, some supercars that are presented earlier but also shown in Geneva. From the first to the last one we recognize the Jaguar XKR, Koenigsegg CCX, Lamborghini Murciélago LP640 Roadster, Maybach 62s, Opel GT and Rolls-Royce Drophead Coupé.