Action at the Nurburgring has been frantic these past years. First we had the Lamborghini Huracan Performante which set a 6:52.01 time back in 2016, then Porsche took back the title in 2017 with a 6:47.25 time, then, in July, Lamborghini announced that it had set a 6:44.97 time with the Lamborghini Aventador LP 770-4 Superveloce Jota. Little surprise then that Porsche have been attempting to take the record back.
Today, Porsche have confirmed that they were able to achieve a faster time for the Porsche 911 GT2 RS. In collaboration with Manthey Racing, the German team have put together a 6:40.3 time, almost 7 seconds faster than in 2017. The time was set by Lars Kern on 25 October 2018, who also set the 2017 time for Porsche.
The car in question is being described as the Porsche 911 GT2 RS MR, which suggests that something is different. The MR actually contains subtle tweaks to the RS which increase its ability to perform on the 'Green Hell'. The MR Performance Kit was tailored to the specific conditions of the circuit in this instance.
While precise details are thin on the ground, it is clear that this particular GT2 RS has a new coilover suspension system, wagnesium wheels, a new brake set, new brake lines and an additional water tank. The MR was also fitted with a racing bucket seat for obvious reasons!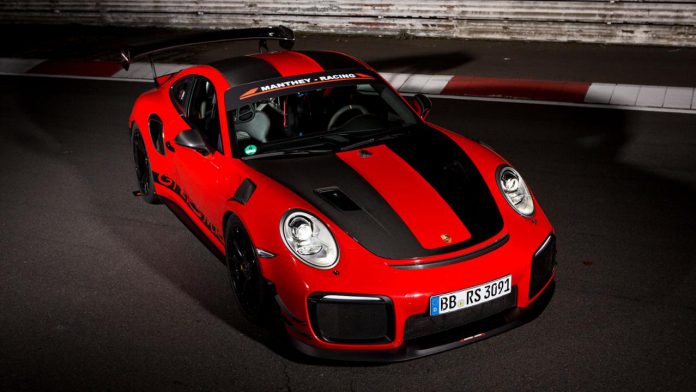 Manthey Racing have confirmed that their new kit will be available from March 2019 as a tuning package for existing GT2 RS. It will be on display at the Essen Motor Show 2018 which begins at the end of the month.