Ferrari had a surprise unveil at the Concours d'Elegance at Pebble Beach in California this weekend. The new Special Series model is the Ferrari 488 Pista Spider, the convertible version of Ferrari's hardcore, mid-engine, performance oriented supercar. It is the 50th convertible model Ferrari have produced and
The 50th drop-top model from the Maranello marque. American clients have always been the driving force between Ferrari's sales which is why Pebble Beach was chosen for the world premiere.
The new Ferrari 488 Pista Spider uses the most powerful Ferrari V8 engine ever. At 3.9 litres, the V8 produces 720 hp at 8,000 rpm and 770 Nm at 3000 rpm. The Pista Spider hits 100 km/h in just 2.85 seconds and 200 km/h in 8 seconds dead. Top speed is 340 km/h.
In terms of looks, the Pista Spider gets a central livery which runs the entire dipping below the front lip and below the rear spoiler. The livery follows the air as it flows over the bodywork. As with it's Coupe counterpart, weight is saved through the generous use of carbon-fibre and Alcantara, the carpets have been replaced by patterned aluminium foot plates and the driver's-side door handle is now a simple strap.
The Ferraro 488 Pista Spider gets Ferrari's new lateral dynamics control system, the Ferrari Dynamic Enhancer (FDE). This is Ferrari's new traction control system which balances the brakes depending upon how you plan to drive the car.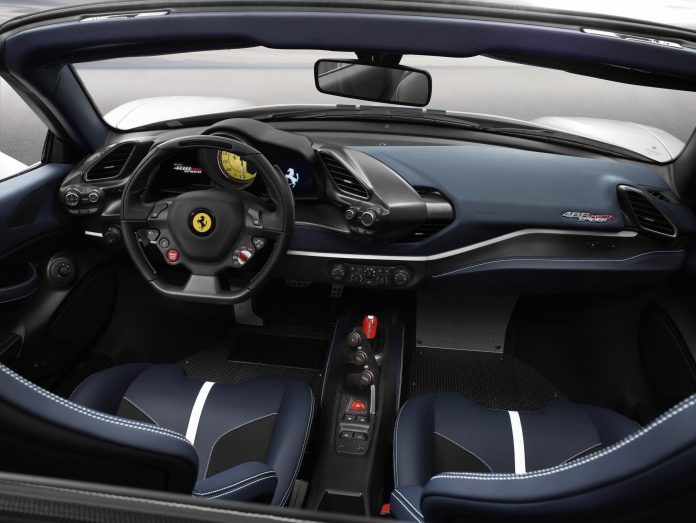 At the axel's, Ferrari fit new diamond-finish 20 inch, 10 spoke alloy wheels with optional one-piece carbon-fibre wheels available which shed 20% of their weight over the standard forged alloys.
Other than the above information, we know very little about the 488 Pista Spider. There is no pricing or availability announced, this is likely because the entire production run would have bene sold in advance. Hopefully we will hear a little more very soon. Until then, enjoy the above photos!