Alfa Romeo is set for some considerable rebranding in the years leading up 2022. Sergio Marchionne set out his vision for the Italian brand on Friday with a market move upmarket one of the key takeaways from his presentation.
The photos below show Marchionne's vision for the company. Most notable is a move out of the B segment which is currently occupied by the MiTo city car. While the Guiletta will remain, it will be supplemented by a C UV, no doubt to compete with Volkswagen, Mercedes-Benz and Audi at the lower levels.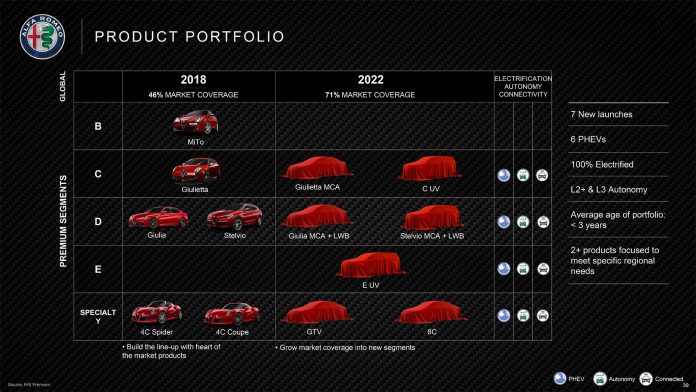 At the higher levels, Alfa Romeo will retain the recently released Giulia and Stelvio models with planned releases of PHEV drivetrains, higher levels of connectivity and autonomous driving. Both will gain long-wheelbase versions to satisfy the Chinese market.
Looking higher up the model range, Alfa Romeo also plans an E segment SUV, likely to rival the Maserati Kubang and Jaguar F-PACE as well as their German rivals.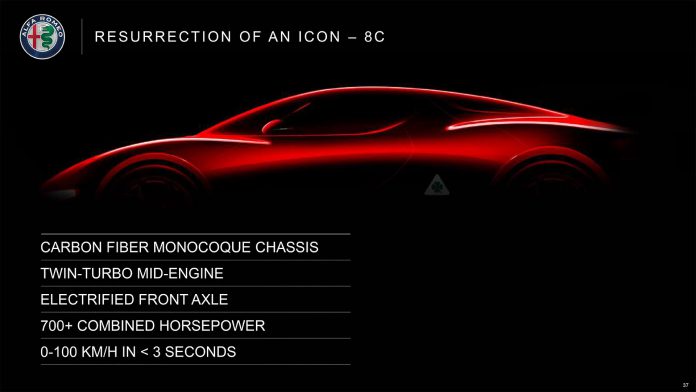 The juicy information was in the news that two models will return to the Alfa Romeo range. Alfa Romeo has, historically, excelled at performance cars and in particular, on the race track. In recent years it has dabbled with cars inspired by its golden years. The 8C is a particular highlight with the 4C also notable.
The presentation slides reveal that the Alfa Romeo 8C will be resurrected in time for 2022. The slides reveal it will use a carbon fibre monocoque with a twin-turbocharged mid-engine hybrid unit pushing out figures in the 700 hp range. A predicted sub-3 second 100 km/h time should make it extremely interesting.
The 8C will be joined by a similarly performance oriented GTV model. The GTV was a product of the mid-90's, a front engined, rear wheel drive coupe and convertible. It should come equipment with more than 600 bhp, E-Boost technology, all-wheel drive torque vectoring, a 50/50 weight distribution and room for four.
In the whole, Alfa Romeo will be phasing out diesel engines from its range. By 2022 it will launch a range of mild hybrids, hybrids and plug-in hybrids shared across the Fiat Chrysler Group. It should offer an electrified version of every model by then with six PHEV's.