Volvo continues it's winning streak with the newly redesigned XC-90. While still clearly recognizable as an XC-90, there are new design cues, new lines, and new angles. It's subtle, not radical. Overall, it's a conservative design update but it improves the look nicely.
The greatest changes are to be found inside. In this, the Inscription model, is possibly the nicest leather interior Volvo has produced to date. It's utterly beautiful, incredibly comfortable, and full of fantastic creature comforts. The occupants sit high enough to get a commanding view of the road. The soft Nappa leather seats are electrically adjustable to find just the perfect position and bolstering and support. Bolsters and lumbar support are electrically adjustable, and the seat cushion has electrically adjustable leg support extensions for long-legged people. The front seats are both heated and ventilated, and thanks to the included Luxury Package, had Volvo's wonderful back massagers. The Luxury package also includes heated rear seats as well. A large panoramic sunroof takes up most of the roof area, providing natural light and great views for backseat passengers. The familiar Volvo controls are well laid out, from the twist-switch start and the chrome ride mode-roller to the 9" infotainment screen with Volvo's uniquely minimalist software. The optional heads-up display provides driver information on the windshield so driver's are less distracted. The standard Volvo electronic infotainment system is used and nicely ties together all the electronic systems in the car. There are seven seats in three rows of seating with the middle row adjustable forward and rearward. The rear two rows fold down flat if you need to transport large cargo.
2018 Volvo XC-90 T6 AWD Inscription
Under the hood lies Volvo's ubiquitous and wonderful T6 engine. This little supercharged and turbocharged direct-injected 2.0L four-cylinder engine does a surprisingly good imitation of a large V6 or small V8 engine. It makes a smooth 316 hp and 295 lb-ft with no turbo lag and propels the XC-90 quite effortlessly using it's capable AWD system. Despite it's size, it gets up and moves. Hooked to an automatic 8-speed transmission, it provides good power and good economy as well, getting 27 mpg on the highway and 20 mpg in the city.
The suspension has upper and lower wishbones at all four corners, integrated with Volvo's air-ride suspension. The ride is supple and controlled, though there's a trace of the typical wallow when sitting up high as you do in the XC-90. It feels smooth and controlled in corners. It brakes quickly, with only a little squat and dive. The benefit to the air ride suspension is that it allows Volvo to add an "Off Road" mode that raises the body an extra 2-3" for additional ground clearance. It's an odd sensation to feel yourself rising up or down as you activate it but it's a cool feature for deep snow or actually taking it off road. Despite it's long wheelbase, it turns sharply and easily slots into tight parking spots.
The ride is composed and quiet. The tight structure and quality sealing of the XC-90 greatly reduce the NVH and seal out road and wind noise. The air suspension does a nice job of absorbing impacts and bumps, providing a smooth and comfortable ride. The impression it gives is that of a high-quality vehicle, certainly in line with the price tag.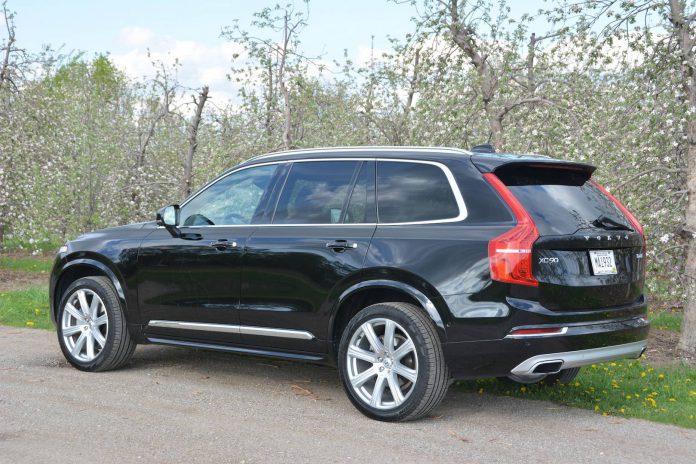 Overall it's a pleasure to drive. Quiet, confident, and quick when you need it to be. All the controls are within easy reach and the interior is sumptuous.
The XC-90 starts at $56,000 USD and goes up with the options you select. The Inscription like we drove, with all the options our car had, came in at $74,000 and felt worth every penny. The XC-90 is an excellent SUV, capable of getting the whole family through anything to just about anywhere with style and comfort.