Having been a 'petrolhead' since childhood, I've always found bizarre pleasure in scouring classified ads and spending my pending fortune. The only thing better was annoying my father – to the point of rage – to drive me to the nearest showroom to have a look at my dream cars in the flesh. Having been spoiled from visiting the best private collections and showrooms around the world since having grown up, it takes something exceptional to catch my attention. When invited to Hexagon Classics, a quick glance on instagram made the decision an easy one.
On a grey Friday morning I arrived in a 991 Porsche Carrera T (check out why by clicking here!) and immediately felt at home. There were dozens of Porsches, including around 20 997 GTS models, parked outside. Although this was a sight to behold, it was quickly forgotten as I peered through the glass panes of the showroom.
Seeing a Ferrari 250 California Spider alone is a memorable experience. It could be likened to bumping to Angelina Jolie in the street – #starstruck. Walking into Hexagon Classics is like walking into a Hollywood film studio full of history's finest – a Stirling Moss driven Aston Martin DB4 GT that is utterly flawless takes centre stage. An original Shelby Cobra wears red in an attempt to outshine the aforementioned Ferrari…and fails. Panning further right is another room, this time more tightly packed and filled almost edge to edge with Porsches spanning a number of eras from a menacing 997 GT2 RS looking mean in black back through to cars from the mid-70s with gems such as a 993 3.8 Carrera Cup racecar hiding modestly in a corner. If that is not special enough for you there is a bright blue 1987 Kremer Porsche 962 Le Mans car sitting pretty in the opposing corner. The significance of such cars amounts to more than the sum of their parts – there are stories you could spend days learning and being fascinated by.
The beauty of Hexagon is that is was alive and kicking back when the history was being made. Since 1963 it has been the official dealer of some of the most prestigious brands in the world, including Porsche, Alfa Romeo, Lotus and Reliant, not to mention London's leading BMW dealer for over 45 years. Many of the cars that are now considered some of the greatest classics of all time were originally sold by the same company but as new cars.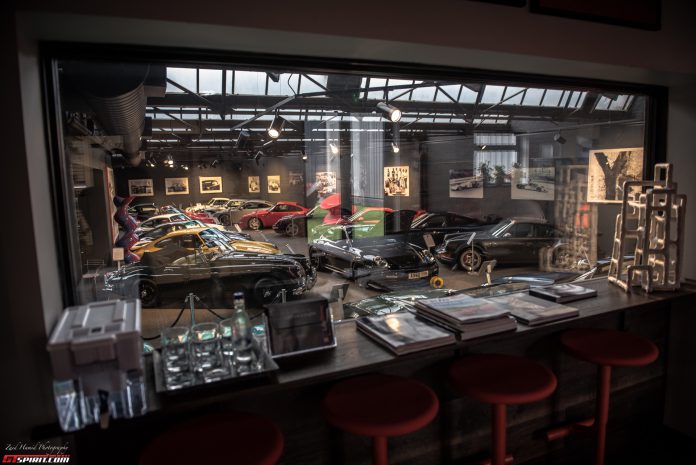 Walking back towards the entrance I take a break from the cars and a sip of sparkling water. The entrance leads into a awe inspiring lounge that has a large glass wall that means you can soak up the view of the finest cars from a soft leather sofa or dining table. Adjacent to this softly illuminated room is dark room complete with a black ceiling and furniture. Red tube lights give it a very different feel to the rest of the building.
A post box like window opens into the Porsche stuffed room and doubles as a bar to enjoy the view. Back into the lounge and there is a narrow doorway leading to yet another room that drops jaws. The first attention magnet is a blue Ferrari Dino GT. The paint is from factory and immaculate, as is the rest of the car, and is one of just a handful finished in such a special shade. Ferraris feature heavily in the room with a 575 SuperAmerica, 512 BB, GTC/4 Coupe and sensational 365 GTC taking most of the space. Talk classics and no real collection is complete without a Mercedes-Benz 300 SL. There are two but both are very different…one is made of wood.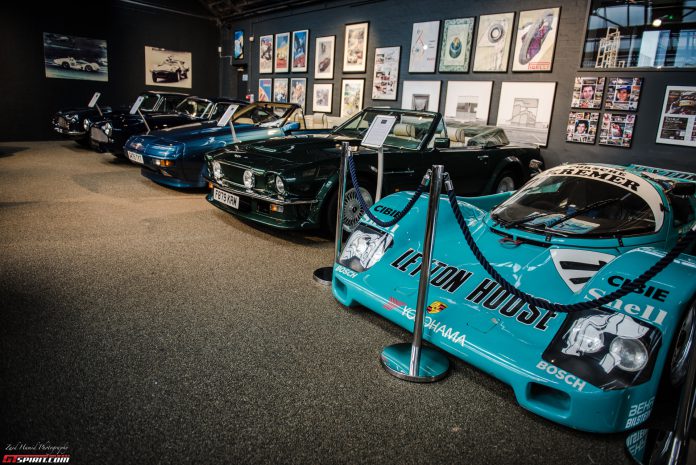 Throughout the walk through Hexagon Classics there are cars the beckon your attention, but that is not all. There is architecture that alone would attract visitors and art that fits so well with the automotive history. This is more than a showroom – yes, there are cars to be bought and sold, but there is so much more.
Paul Michaels founded the company and having spending a couple of hours with him it is clear that the unfiltered passion for cars that he has is translated and realized in the mind-blowing organization that Hexagon is today. The staff are warm and welcoming, the cars are worth of concourse and museums across the world – this is a rare colourful jewel that shines against the grey and dull world of car dealerships.