Brabus have revealed further details of a Mercedes-AMG G 65 project they plan to debut at the Frankfurt Motor Show 2017 which starts this week. The Brabus 900 G 65 AMG "1 of 10" will be offered as part of a limited edition run at a price of 666,000 euros! Fitting as it looks like the devil personified!
Brabus bill the 900 as the world's most powerful twelve-cylinder off-roader. With a 6.3 litre twin-turbo V12 and an output of 900 hp and 1,500 Nm of torque, there is little room to deny these credentials! The engine gets a billet-steel crankshaft with a longer stroke, billet-steel conrods, forged pistons and enlarged cylinder bores. Modified exhaust manifolds, larger compressor units and higher boost pressure combine with larger down pipes and a new stainless steel exhaust.
The Brabus 900 G65 AMG "1 of 10" dispatches 100 km.h in just 3.9 seconds with an electronically limited top speed of 270 km/h (168 mph).
The body is upgraded with the Brabus Widestar widebody conversion. The most notable update on this car is the carbon hood scoop which is larger and specially manufactured to provide air to the new intake manifold and air filter box. Elsewhere, a new front spoiler, carbon panel under the radiator grille, carbon hood, front grille, fender arches and rear bodywork complete the look.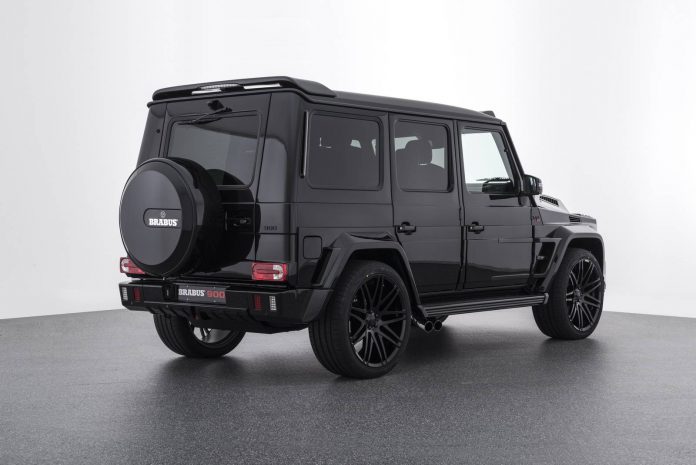 The wheels are 23-inch Brabus "Platinum Edition" hi-tech forged units. The G 65 also features Brabus-fetled electronically adjustable Dynamic Ride Control, a Brabus high-performance braking system and an exclusive Brabus fine leather interior with individual rear seats. At the front, the Brabus 900 G65 AMG "1 of 10" gets black tinted xenon headlights and LED daytime running lights for additional menace.
Inside, the Brabus interior includes 'Mondial Vanilla' and 'Mondial Black,' highlighted with red piping and vanilla-colored decorative stitching. Mastik leather is used with seat center sections perforated with pinpoint precision and shell-shaped quilting. Brabus have fitted an impressive Alcantara starry sky with hundreds of optical fibers which change in sync with the ambience lighting of the entire interior.