It was first teased at the 2015 Frankfurt IAA; one year before its final unveiling, we get a close glimpse of the production car, which is making its rounds around Audi's Ingolstadt home base and at the usual testing locations.
Caught with moderate camouflage, we recognize that the e-tron quattro does not deviate all that far from the 2015 concept. But we can see that it looks better – a lot. The concept car's scary, chiseled front grille has made way for a cleaner face that evokes new new A8, and both the front and rear are adorned with futuristic LED lights.
The crossover proportions remain close to the concept; the roof is somewhat coupe-like, but not too much. That's because Audi wants to leave room for a derivative called the e-tron Sportback quattro, which will hit the market about on year after the initial car.
Audi e-tron Quattro spy shots (1)
The interior, our sources tell us, will be close to the new A8 in concept and execution, and that's a good thing: It means horizontal lines, touch-sensitive glass screens, and an altogether ultra-futuristic ambience.
With the new A8, Audi lays claim to a leadership position in autonomous driving technology, and we expect the e-tron quattro to further expand on the technology.
The first version of the new e-tron quattro will be fitted with one front and two rear electric motors, which will produce a total output of around 385 horsepower. It will be priced around 80 000 euros.
Down the road, there will be an entry-level version with one front and one rear motor, with around 300 horsepower, but what we really look forward to are the high-output versions, which could exceed 500 horsepower.
And that's before Audi Sport takes a look at electric cars – something that the sub-brand's boss Stephan Winkelmann has hinted to be high on his list of priorities.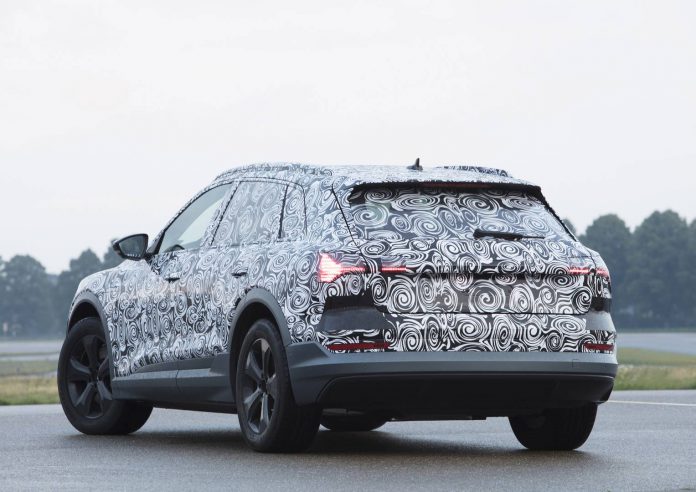 With Audi's trademark attention to details, fit and finish, the e-tron quattro will prove to be a tough challenger in its segment: We can't wait to see how it stacks up against the Mercedes-EQ models, the Jaguar I-Pace, and – indeed – Tesla's next offerings.
It will be interesting to see the e-tron quattro battle with the upcoming, fully electric models by Mercedes-EQ and Jaguar. And, of course, the different offerings by Tesla – which will struggle to retain a leading position in a market they served to create.